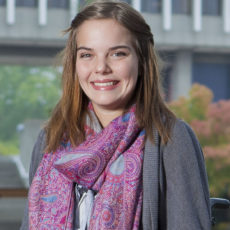 When she was six, Jessica Kruger went to 37 countries on a four-year sailing trip with her family. Back home in Coquitlam, she found a typical Canadian childhood again.
That came to an end when Jessica was 15 and working at her first real job with a company that painted houses. "It wasn't easy, but paid more than a fast-food restaurant. And I loved the high work." On the tenth day, she fell from the second storey of a house and broke her neck in four places.
Jessica shares her experiences now at community events like this year's Day of Mourning ceremony to commemorate British Columbians who died in the workplace.
In a wheelchair now, Jessica has a good left hand, the right one is weak and dysfunctional, and she has paralysis in most of her lower body.
Coming back wasn't easy. She started rehab and says "I was forced to depend on other people to do things for me — getting dressed, showering, everything. It was months before I could transfer on my own, shifting from wheelchair to couch or bathtub. In my life, transfers never end."
Slowly, growing stronger, Jessica began to really push herself. An example was refusing to miss school completing the first part of Grade 10 in rehab. She earned A's and B's in four classes and a PE credit for physiotherapy.
"The accident doesn't stop me from living my life. I generally find ways to do things when it seems I can't, or I get help from someone. That applies to the two big things in my life now."
One is wheelchair rugby, a tough mixed-gender contact sport where Jessica plays competitively for the BC provincial team. Her other big thing is baking; Jessica was the first student in a wheelchair to graduate from the VCC Baking and Pastry Arts Program.
Meanwhile, Jessica sometimes thinks back to the incident. "On good days, I see it as one of those things. Everyone experiences loss in life, and I got my dose early."
"I deal with the bad times the best way I can, and I move forward," she says. "But the reality is that there's no going back to who I once was."
"I'm looking at the rest of my life without legs. And I'm one of the lucky ones — unlike the 131 people who died trying to earn a living in B.C. last year."
Jessica wants to honour them, and remind all B.C. workers and employers how crucial on-the-job safety is.
"It's as black-and-white as anything can be. You're in one piece or you're not. You're in a wheelchair or you're not. You're alive or you're not."
"Take it from me. It's that simple, and something you definitely don't want to learn the hard way."
For more information please contact:
Media Relations
604.276.5157